BRAILLE-BR001
-
Unified English Braille - Level 1
19706
Format
Online Self-paced Learning Activity
ASPIRE-Certificates
Course Description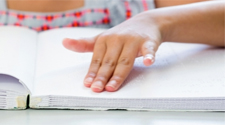 This first course is designed to gain mastery of the basic skills of visually reading and mechanically brailling alphabetic Unified English Braille using a Classic Perkins brailler. Topics covered include the use of the Perkins Classic Brailler, alphabetic braille and cardinal numbers, Capitals Mode and punctuation, Numeric Mode and basic mathematic concepts. Successful completion of this course will prepare the learner to continue with Unified English Braille -- Level 2.
There are no admission requirements for Level 1.
*Please note that admission to Western's UEB program does not guarantee a space in Teaching Students who are Blind AQ courses. Candidates who wish to enroll in the AQ must register HERE.
Applies Towards the Following Certificates
Register - Select a section to enroll in