BRAILLE-BR002
-
Unified English Braille - Level 2
19709
Format
Online Self-paced Learning Activity
ASPIRE-Certificates
Course Description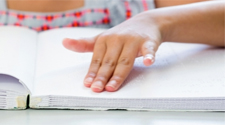 This second course in the program is designed to continue the study of UEB by developing skills in reading and brailling approximately one half of UEB's listed braille contractions. Please note that in order to employ "contracted" braille Level 3 needs to be completed. Topics covered in Level 2 are the alphabetic wordsigns, the Standing Alone Rule, wordsigns and groupsigns for and, with, for, of, the, ch, sh, th, wh, ou, st, the groupsigns ar, ed, er, gh, ow, ing, the lower wordsigns for his, was, were, be, in, enough, and the groupsigns for in, en, be, con, and dis. Successful completion of this course will prepare the learner to continue the study of contractions in Unified English Braille -- Level 3.
Prerequisites
Successful Completion of Braille Level 1 or equivalent.
Acquired Braille Equivalency Chart: Please review the Braille equivalency chart for accepted equivalent courses from other institutions.
*Please note that admission to Western's UEB program does not guarantee a space in the Teaching Students who are Blind/Low Vision AQ courses. Candidates must register for the AQ separately.
Applies Towards the Following Certificates
Register - Select a section to enroll in