BRAILLE-BR003
-
Unified English Braille - Level 3
19712
Format
Online Self-paced Learning Activity
ASPIRE-Certificates
Course Description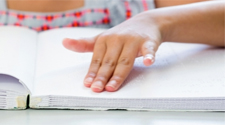 This third course at the intermediate level of the program completes the study of Unified English Braille contractions. The student will become proficient at reading and brailling contracted braille, and at employing the rules of Unified English Braille as they apply to these contractions and shortforms. Topics studied include lower groupsigns bb, cc, ff, gg, ea, initial letter contractions, final letter contractions, and shortforms. Success completion of this course will prepare the learner to continue the study of Unified English Braille at the advanced level -- Level 4.
Prerequisites
Successful completion of Braille Level 2.
Acquired Braille Equivalency Chart: Please review the Braille equivalency chart for accepted equivalent courses from other institutions.
*Please note that admission to Western's UEB program does not guarantee a space in the Teaching Students who are Blind/Low Vision AQ courses. Candidates must register for the AQ separately.
Applies Towards the Following Certificates
Register - Select a section to enroll in