BRAILLE-BR004
-
Unified English Braille - Level 4
19715
Format
Online Self-paced Learning Activity
ASPIRE-Certificates
Course Description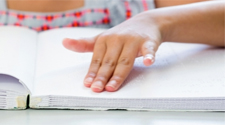 This fourth and last course in the Unified English Braille program is designed for the student to learn advanced code techniques in Unified English Braille as it is applied to a variety of less common and irregular print forms, concepts, and formats encountered in classroom braille reading and writing. Topics include the Grade 1 Mode, speech mannerisms, abbreviations, braille symbols, omitted letters, electronic addresses, typeform indicators, credit lines, foreign words, reference symbols, poetry, algebraic equations, sub/superscript math indicators, chemical formulas, square roots, radicals, and omission marks.
Prerequisites
Successful completion of Braille Level 3.
Acquired Braille Equivalency Chart: Please review the Braille equivalency chart for accepted equivalent courses from other institutions.
*Please note that admission to Western's UEB program does not guarantee a space in the Teaching Students who are Blind/Low Vision AQ courses. Candidates must register for the AQ separately.
Applies Towards the Following Certificates
Register - Select a section to enroll in